My England World Cup Team
8
If the Quad Series taught us anything, it's that Tracey Neville has a really tough decision to make. With the World Cup just around the corner in July, picking a 12-player squad isn't going to be easy.
But I'm going to give it a go.
DEFENCE
Goal Keeper
Geva Mentor

The 33-year-old really doesn't have any competition. She's relatively quiet at the back, compared to the likes of Layton and Bruce, who roar from the back line. But she is a silent, sturdy and sneaky force, and takes on the likes of Thwaites and Bassett without breaking a sweat.


Goal Defence
Ama Abgeze
This is less obvious than the GK position.
I would've chosen Eboni Osoro Brown, but I read she's opted out of The World Cup due to work commitments (Wah!).
Ama Abgeze is a world-class GD and a great partner for Mentor. She's had an injury and isn't match fit – missing out on the recent Quad Series. If she's fit for the World Cup, then I think Ama could be in Neville's starting line-up.
Other mentions
Fran Williams has played a few international games, against Uganda and Australia – and in both games, she made a huge impact. When we needed fresh legs in the circle, Fran didn't disappoint. I really hope she's in the squad – especially as she's a younger player, and it's always important to nurture future talent!
So that's three defenders. Now onto the mid-court…
MID COURT
Wing Defence
Layla Guscouth / Beth Cobden
Layla and Beth have both just joined Adelaide Thunderbirds in the Australian Super Netball League. Both play an impressive WD.
Beth has limbs longer than Mr. Tickle, plucking interceptions from the air that seem impossible … until she pulls it off. She has a leap that could probably cover an entire third of the court, which makes getting to the top of the D an exhausting task for any attacker.
Beth injured her ACL in last season's Super League final, hence why she wasn't in the Quad Series squad this month, but if her fitness improves I don't see how she can be left out of the squad.
Layla is quick, irritating and gets in positions that make interceptions look like she's mind-reading the opposition. In the Quad series, even the Australian attackers thought they were safe until Layla came out of nowhere to strike like a ninja honey badger.
Layla can also play GD, so she might end up in that position, having proved her chops in the circle a few times already this year.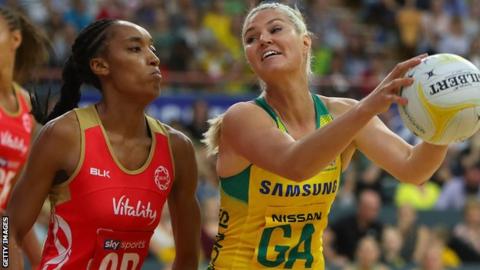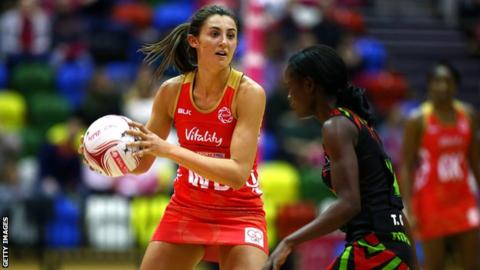 Centre
Serena Guthrie
Serena is another shoo-in. She's put her stamp on the Australian Super Netball League and has recently returned to England to play for Bath.
As good at interceptions, as she is at feeding the ball into the circle, Serena's real USP is her athleticism. She is a total powerhouse across the entire court, never seeming to tire or lose concentration.
If Serena isn't in the final selection, I'll never pay netball again (injury permitting!).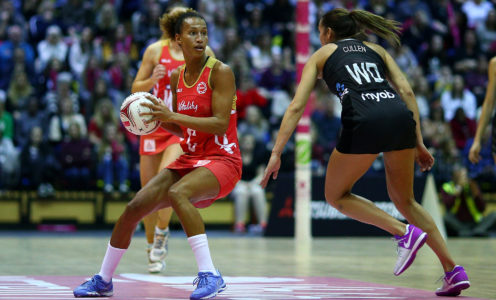 ATTACK
Wing Attack
Natalie Haythornthwaite
This one is a bit controversial because Chelsea Pitman is a really great WA.
The reason I've given Nat the edge is because she's not your typical WA, and I think this confuses the defence. She's sneaky, surprisingly quick, her delivery into Harten and Housby is unmatched, and she ALWAYS has a smile on her face.
She also works SO hard on court, which I love. No ball is unsalvageable, and no pass is undeliverable.
Nat never says die.
Other mid-court mentions
Jade Clarke can play WD and C, and her experience (over 150 England caps) means she keeps a level head and slows the game down when everyone else gets frantic. Jade should deffo be included in the squad.
Chelsea Pitman should also be included. She drives to the edge of the circle like a bullet, and puts in passes to Harten that fit through the smallest of gaps.
Goal Attack
Helen Housby
Helen is a safe pair of hands. I think the only player that stops her being the best GA in the world is Maria Folau. Both shoot from anywhere inside the circle, perform best under pressure and can get free when it seems like no one else is available.
With her slight frame, you might think Helen gets pushed around on the court, but she more than holds her own. And her height means she's always challenging rebounds, which can't always be said for other GAs (apart from Tippett and Folau who are also tall!).
Poise. Precision. Persistence.
That's how I'd sum up Housby.
Goal Shooter
Jo Harten

Arguably the best GS in the world right now (only Caitlin Bassett could give her a run for her money IMO), Jo is the full package. She can shoot, move, rebound and feed into the circle like no other shooter I've ever seen.
Jo's not a one trick pony, and she doesn't just hold (although she can). She mixes things up depending on her defence and is always thinking things through. With shoulders that shimmy on the backline, Jo works best when she's getting quick delivery into the circle.
She can also shoot from anywhere. Not just from under the post. This makes her a real threat for any GK trying to stop her.
Other attack mentions
Rachel Dunn. Before the Quad Series match against Australia, I was always slightly dubious about Rachel Dunn. She has brilliant games, and then games where she gets a bit sulky and inconsistent. But she's really hit her stride since the Fast5 tournament, where she was an absolute shooting machine.
In the match against Australia, Harten and Housby weren't gelling, so Dunn came on as GS and smashed it. Even getting POM. It was a real 'moment' for her and couldn't have come at a better time.
I really want Dunn to be in the World Cup squad because she's another great option. She moves. She holds. And she takes the pressure off of Harten when things aren't quite working.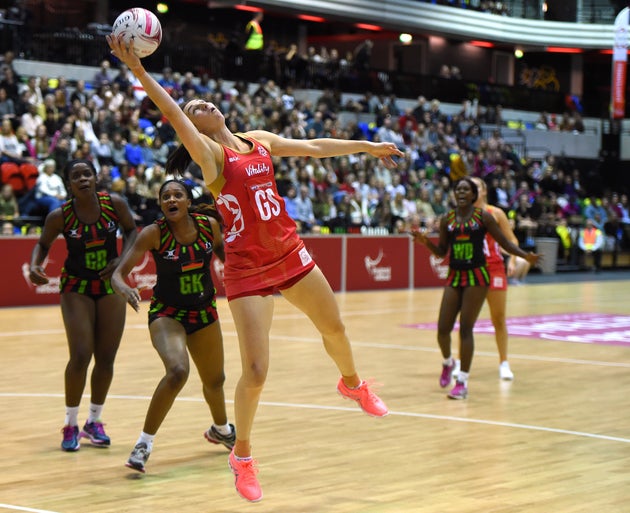 My Final Squad
Geva Mentor
Ama Abgeze
Fran Williams
Layla Guscouth
Beth Cobden
Serena Guthrie
Nat Haythornthwaite
Chelsea Pitman
Jade Clark
Helen Housby
Jo Harten
Rachel Dunn
Do you agree? Who would be in your starting line up?